The cryptocurrency industry has already been facing several regulatory barriers in the United States of America, and regulators have turned their gaze on stablecoins of late. While the regulatory concerns raised around stablecoins have been increasing by the day, so did the supply. As per data provided by Messari's Ryan Watkins, the supply of stablecoins hit $120 billion this week.
Source: Twitter
With the rise of use cases for cryptocurrencies, stablecoins have also been witnessing a variety of uses in the industry. For instance, they are being used as a medium of exchange and store of value in the decentralized finance [DeFi] ecosystem, as currency to move value between exchanges, as collateral on derivatives exchanges, and even as currency for cross border payments. These have been catching on with the crypto users, so much so, that in Q2 users transacted over $1.7 trillion. This value was 14 times higher than that recorded in 2020.
Undoubtedly, this increase in value can no longer be ignored, especially by the regulators. Yes, stablecoins are one of the few applications of public blockchains that legitimately have a multi-trillion dollar addressable market, but this was has also been a point of distress.
So, how did Stablecoins become a multi-trillion dollar market?
According to Watkins, the credit goes to the U.S. dollar. He noted,
"With the US dollar accounting for about 55% of the world's international transactions, savings, and borrowing, there is large structural global demand for USD, especially outside the US financial system."
Due to the 24×7 availability of the blockchain, many financial institutions have shifted transactions to it. This was also done to provide reliable and cheaper services to their clients. Meanwhile, the offshore case was the one that was hurting the regulatory eye and stablecoins were eating into it.
Watkins stated that the size of the offshore dollar market or dollar deposits held outside the US could be over $57 trillion.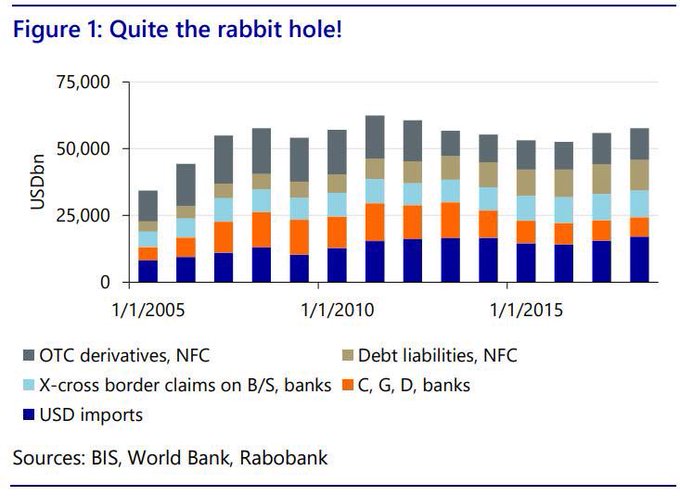 Source: Twitter
Moreover, regulators could view stablecoins as "incredibly disruptive on a global scale," with at least trillions of dollars at stake. This could be all the more problematic if we combine it with the rising trend of decentralized stablecoins, which the regulators may not be able to control or even restrict.